The importance of cultural diversity in our sustainable strategy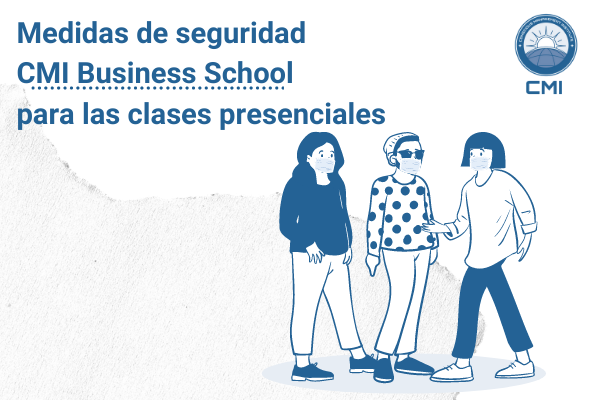 Last Tuesday CMI resumed presential classes at the business school under a strict set of security measures. In order to guarantee the protection of all attendees during their time on the premises.
After a six-month break due to the pandemic caused by COVID 19, this week CMI students returned to the classrooms in CMI's headquarters located in El Retiro, Madrid.
Learn about the safety protocol we have implemented to care for our students, faculty and staff.
Security Measures
Mandatory protocol for entering the center:
*Mandatory use of mask at all times. People who do not have a mask will not be allowed to enter the Institute.
*Disinfection of the rooms with an ozone generator before being used. Prior to each class or use of the spaces, a thorough disinfection will be carried out.
*Installation of methacrylate screens in each of the workstations. In addition, two-person benches cannot be shared, their use will be individual, guaranteeing distance between students.
*Temperature measurement to each assistant before entering the center. Those who present less than 37.2° may enter.
*Social security distance between each assistant.
Prevention of COVID-19
In addition to these measures, the center has the RIA biosafety certificate that verifies compliance with good practices for the prevention of infections. You can access this document by clicking here.
At CMI Business School we understand that protecting the health of everyone around us is also a good practice that we must ensure and encourage. At this time, the pandemic we are going through requires us to be more rigorous with infection prevention measures, which is why our business school will not lose sight of other aspects which were always guaranteed, such as ample spaces with proper air intake, heating, access to natural light, a common place for entertainment and a kitchen available to all our attendees.
Nor will we stop working to build a healthier organization that promotes the well-being of people, so, as during the previous months, we will continue to attend each query and question of our students in a personalized manner and with the attention they deserve.
We are happy to be back together. We are waiting for you to continue your work and to train new leaders that society, more than ever, demands.