CMI receives an acknowledgement from Corresponsables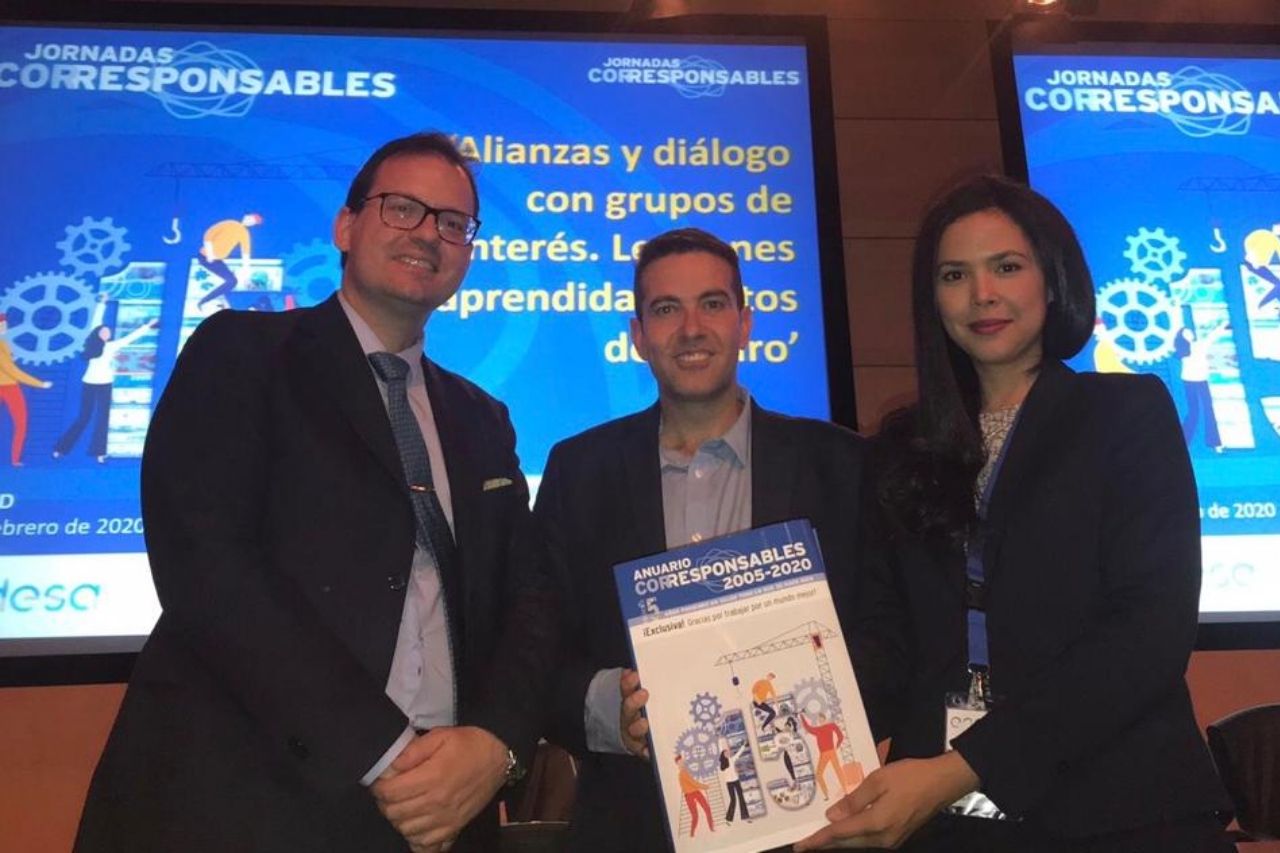 Our business school was awarded for its contribution to CSR during an event that was attended by more than 700 participants and brought together 35 companies, varying from multinationals to SMEs, public organizations and experts, at the Endesa corporate headquarters.
On Wednesday, February 26, the 15th edition of the Corresponsables Yearbook was held, where CMI Business School received recognition for its great work in training leaders with a focus on CSR, a key and transversal aspect that characterizes all its programs.
Rafael García and Nilsa Mármol, CMI directors, received the award from Marcos González, President and editor of Correspondents, its foundation and the Observatory for Responsible Communication (ObservaRSE).
Find out about the Master programmes and courses for which CMI was recognised by directors of companies such as Paradores, Carrefour, Enaire, Seur, Carburos Metálicos, EDP, Endesa, Lilly, Novartis, among others, here.
Session development
The event was meant to debate about the" Alliances and dialogue with interest groups. Lessons learned and future challenges", based on various reflections from business leaders. Sponsored by Endesa and the Ministry of Labour, Migrations and Social Security, the Madrid Corresponsables' Day included the first public intervention by the Government's new General Director for CSR, Maravillas Espín.
"The reactivation of the State Council for Corporate Social Responsibility (CERSE) to promote the Agenda for 2030 is a unique opportunity to fight for human rights from an equity and equality perspective (…) The government is committed to defining public policies that revitalise corporate CSR", highlighted Espín during the opening of the event.
After the presentations and analysis on the current situation of CSR, which have been a trending topic reaching a record of 13.4 million people and more than 1,900 interactions, two monographic workshops promoted by ObservaRSE were held: "The keys to putting alliances into practice" and "Alliances for inclusion and labour diversity".
Although the Madrid edition was first, the activity will also take place in Barcelona, Burgos, Seville, Murcia, A Coruña, Palma de Gran Canaria and Tenerife during 2020.