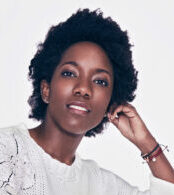 Dr. Georgina Marcelino Mercedes
PhD in Advertising and Public Relations, specialized in Social Media. Degree and Master in Advertising with focus on Creativity and Management. She has also more than 10 years of professional experience in strategic Advertising, Creativity, Brand Content and Marketing. Currently, she is an independent consultant and a speaker in creativity, communication and digital innovation events.
Advertising and public relations, Ph.D. Digital Communications in Cultural Institutions. Camilo José Cela University. Madrid.
Master degree in advertising. Antonio de Nebrija University. Madrid.
Degree in Advertising and Creativity specialized. Universidad Autónoma de Santo Domingo. Santo Domingo.
Professional Visual Artist. National School of Visual and Fine Arts of the Dominican Republic.
Areas of Interest
Creative advertising and strategic planning.
Social media, content creation and content management.
PR strategies and global branding.
Communication for representativeness and social transformation.
Biography
Georgina Marcelino Mercedes is Doctor in Advertising and PR, PhD, with a Master degree in advertising and a Degree in Advertising specialized in creativity. She has more than 10 years of professional experience in strategic advertising, creativity, brand content and marketing.
As Social Media Manager and content manager she has worked the global branding image and content for international brands, also defining the visual identity for advertising campaigns and supervising entire projects and the promotional launch of mobile applications. She has worked with brands like: Mary Kay, Telefónica, Hoteles Be Live, Fedex, Continental Hoteles, Dodot, Federópticos, Rowe, Roemmers and others.
Independent consultant and speaker, talking about creativity, communication and digital innovation. She has published articles in academic journals of
communication research.
She actually collaborates as speaker, teaching and presenting workshops focused on social transformation and representation on topics of global interests as equality, non-violence and non-discrimination.
Publications
Academic articles
2015. Spanish youth and teenagers migrating through social networks. From Tuenti to Facebook and from Facebook to Instagram. The second migration. Icono 14. Journal of communication and emerging technologies. (July, 2015) : http://www.icono14.net/ojs/index.php/icono14/article/view/821
2015. Youtube. A tool in the communication of museums and cultural institutions. Revista Internacional de la Imagen. International Congress of Image and Communication, Freie Universität Berlin. (January, 2015) : http://journals.epistemopolis.org/index.php/imagen/article/view/647
2014. Image-based online social networks in museum communication. Spanish museums of Modern and Contemporary art in Pinterest and Instagram. AdComunica. Scientific journal of strategies, trends and innovation in communication. (November, 2014) : http://www.adcomunicarevista.com/ojs/index.php/adcomunica/article/view/202