Business services and benefits: CMI offers various advanced consulting and training services to help businesses and organizations successfully drive sustainable growth
Our Advanced Consulting services will allow you to acquire knowledge and technologies to solve complex problems and boost your management and production systems to acquire competitive advantages and achieve the sustainable growth of your organization.
CMI's Advanced Consulting consists in empowering the client as soon as possible and with the minimum investment. Below we present some of our services, do not hesitate to contact us and we will provide you with professional advice fully adapted to your needs.
CSR and Integral Sustainability Service: 
At CMI, we develop and promote CSR and Sustainability in your organization in a comprehensive and strategic way.
We prepare the CSR Plan of your company, as well as the Sustainability Report.
We establish compliance strategies for all legally binding issues in the field of CSR.
We provide techniques, tools and practices according to the needs of responsible and sustainable businesses.
Corporate Risk Map and Management
We collect relevant information on current risk management corporate.
We identify corporate risks in each of the activities and lines of business.
We evaluate all corporate risks based on proven methodologies.
We configure a Preliminary Map of the most significant Corporate Risks of your company.
We establish the Contingency Plan to eliminate or minimize significant risks.
We configure the Map of Residual Corporate Risks of your company.
We estimate risk reduction in economic terms.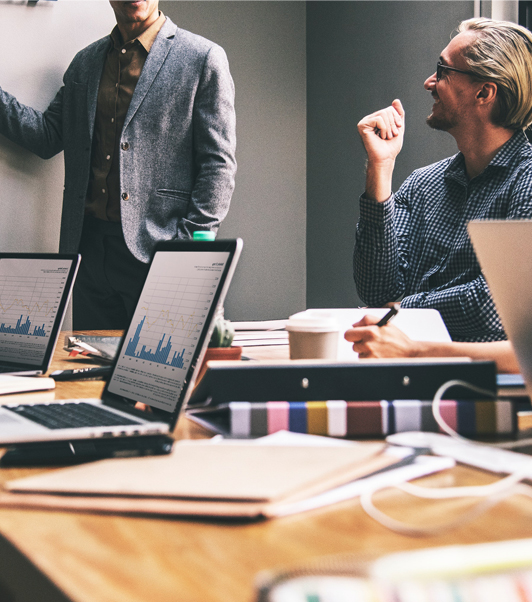 Preparation of Sustainability Report:
Through the preparation of the Sustainability Report following international standards and guides and guidelines, you will be able to efficiently communicate the most relevant environmental, social and governance information on your organization's activity.
Preparation of CSR Plan:
At CMI we prepare the Corporate Social Responsibility Plan where the implementation of the sustainability strategy is carried out in your organization, obtaining triple impact benefits.
Preparation of Equality Plan:
At CMI we develop the set of measures aimed at guaranteeing equality between men and women in the workplace through the development of the Equality Plan. In this way, the elimination of those barriers that hinder, limit or impede equal treatment between the sexes in your organization is promoted and promoted.
Preparation of the Code of Ethics:
Through the development or revision of the Code of Ethics, the values ​​and culture that effectively promote credibility and trust in your organization are established so that it grows and lasts in a sustainable way.
Short course package to promote sustainability in the organization:
Through our selection of short courses, you will be able to train to establish the first steps of development and promotion of CSR in your organization and promote sustainability from a holistic and comprehensive point of view.
Biodiversity Protection Packages for SMEs.
Biodiversity has been disappearing at an alarming rate in recent decades, but this trend can change if we all contribute. In this dedicated package for SMEs, we adjust to your budget to analyze the impacts of your business on biodiversity and we give you the tools to counter them. We provide you with scientific, legal and administrative advice tailored to your city, community or country.
Personnel management through values:
We provide consulting and training projects aimed at achieving people management systems that go beyond professional knowledge and skills, taking into consideration what people know how to do, but, above all, what people are.
We carry out training actions aimed at recruitment professionals and team managers, aimed at enhancing their ability to identify the integral talent of candidates to join the workforce or assume new roles, as well as their identification with the corporate values ​​of the organization .
We develop consultancy and training for the implementation of effective ethical codes, and the prevention of regulatory, legal and ethical breaches by employees.
Healthy Businesses
We provide training and psychological counseling to increase productivity and improve the health, well-being, safety and quality of life of the members of your organization.
We carry out training in the healthy use of ICT (Information and Communication Technologies) to combat techno-stress.
We develop prevention and intervention measures in physical and mental health.
Triple Impact Initiatives: "3E" Training (Educational, Economic, Ecosystemic)
The 3E Training proposes an approach to innovative and creative experiences developed worldwide, focused on Triple Impact and New Economies, which will give young students, in the stage of transcendental decisions about their professional and work destiny, a new and exciting perspective on their Possibilities for a future job, professional and / or entrepreneurial.
– Formación In Company y 100% online:
Programas educativos especialmente adaptados a las necesidades de cada organización, tanto en contenidos como en formatos, presencial, blended u online. Los programas de CMI disponibles para empresas y organizaciones, son flexibles y se planifican, diseñan, ejecutan y controlan según el nivel que precise cada organización, desde la realización de cursos o másteres puntuales, hasta la gestión integral de la formación corporativa. Toda la formación puede ser 100% bonificable por Fundae.
– Consultoría avanzada
Servicios de consultoría a gestores, autónomos, PYMES, ONGs y grandes empresas. Consultoría de excelencia accesible a todo tipo de organización.
Asesoría en estrategia e implantación de RSC.
Ejecución de proyectos de RSC, Donaciones y Voluntariado.
Elaboración de Memorias de Sostenibilidad.
Planes de Igualdad y desarrollo organizacional.
Protección de la Biodiversidad.
RSC para PYMES y Autónomos
– Convenios de prácticas profesionales
Las organizaciones comprometidas con el desarrollo de la RSC pueden incorporar el talento de los estudiantes y profesionales de CMI Business School mediante la firma de un Convenio de Prácticas.
Nuestros valores principales
Descubre todo lo que CMI puede hacer por el crecimiento sostenible de tu organización poniéndote en contacto con nosotros a través del siguiente formulario.