CMI Business School Expands its Borders: Master's in CSR and Sustainability Available in English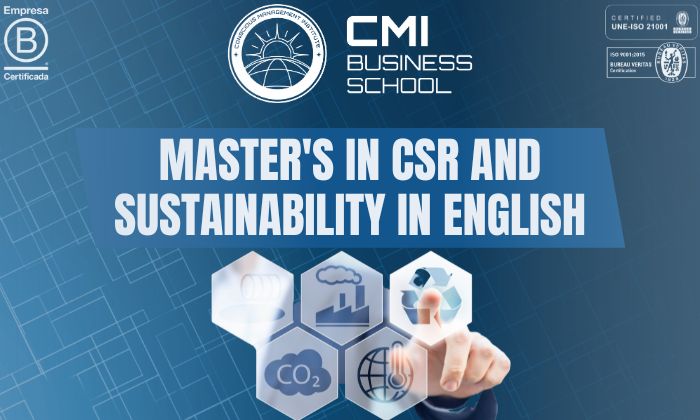 The Master's program in Corporate Social Responsibility and Sustainability, offered by CMI Business School, has solidified its position as a flagship program in the realm of CSR and sustainability.
Offered in a range of formats (weekly, bi-weekly, and online options), the program covers leading business practices, empowering its students to become genuine catalysts for comprehensive growth within companies and organizations.
Taking this into consideration and extending its influence, CMI Business School is delighted to declare that beginning with the October 2023 intake, the Master's program in CSR and Sustainability will be delivered in English.
This move transcends language obstacles and extends an invitation to an even broader array of professionals to immerse themselves in its content, centred on enhancing the realms of business, society, and the environment.
In this context, this recent initiative by CMI perfectly aligns with the school's dedication to spreading knowledge and nurturing conscientious leaders who possess the capacity to tackle intricate challenges within their individual organizations.
By choosing English as the medium of instruction, CMI Business School aims to enhance the academic journey and promote intercultural learning. This effort nurtures a dynamic setting in which students fluent in both Spanish and English can freely exchange ideas and viewpoints.
Excellence in Academics
CMI Business School solidifies its stance as a frontrunner in academic education and the progression of responsible business methodologies. This dedication to educational eminence is evident through an array of accolades and certifications.
The School holds the B Corporation Certification accreditation, "Más Familia" Foundation (EFR), as well as ISO 9001:2015 and 21001:2018 certifications. All of these exemplify a dedication and allegiance to the utmost standards of quality.
Moreover, CMI Business School's engagement with the United Nations Global Compact and the Principles for Responsible Management Education, coupled with additional recognitions and honours, cement the School's role as a frontrunner in fostering ethical and sustainable business practices through education.